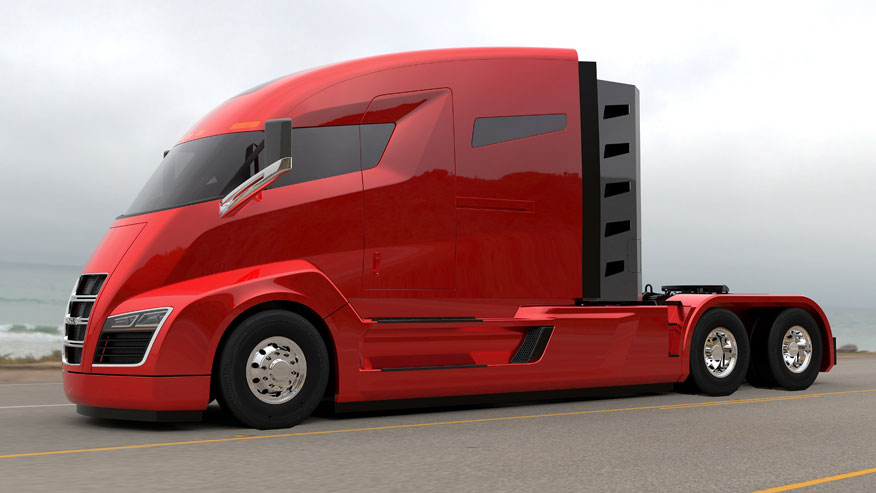 Nikola Motor Company Announces Hybrid-Electric Semi
Category: Freight Broker
09/11/2019
Tesla is getting into trucking. At least his first name is.
The Nikola Motor Company, a Utah-based startup, has unveiled a compressed natural gas-electric hybrid semi aimed at disrupting the long-haul trucking industry the way the Tesla Model S did the car business.
The company is run by Trevor Milton, a former executive at dHybrid Systems, which developed a CNG system for tractor-trailers that's now owned by Worthington Industries. Along with Faraday Future, Nikola is the latest automotive outfit named after an electrical pioneer to seemingly appear from the ether.
The truck, called the Nikola One, has been developed in secret for the past three years. It features a 150-gallon dHybrid storage system stacked behind its cab that fuels a turbine generator, which charges a 320-kilowatt-hour battery pack that drives six motors, one for each wheel. In this way, it works much like a diesel-electric locomotive.
It's not a conversion vehicle. The truck's chassis was engineered specifically for the project and features a unique independent rear suspension system designed in conjunction with automotive component supplier Meritor.
The series-hybrid drivetrain puts out 2,000 hp and 3,700 lb-ft of torque, Milton said in an interview, and it gets 10-15 mpg – about twice the fuel economy of a typical 500 hp, 1,650 lb-ft diesel tractor. As with most hybrid and electric vehicles, it has regenerative brakes that charge the batteries on downhill stretches, helping contribute to its claimed 800-1,200 mile range between fill-ups.
The plan is for Nikola to build a nationwide network of refueling stations to support its customers, similar to Tesla's electric supercharger network. Nikola owns its own CNG wells and will sell the fuel for the equivalent of $1.50 per gallon, but the first 5,000 buyers of the $375,000 truck will get 1 million miles' worth for free.
Though only renderings of the vehicle have been released so far (a working prototype will be shown by the end of the year), Milton says several fleet operators have been involved in its development, and Nikola has many orders in hand. He says the company is well funded by a group of very wealthy private investors and companies working across multiple industries. He promises to provide more information on them soon.
---
Source:
http://www.foxnews.com/leisure/2016/05/11/nikola-motors-sleek-hybrid-semi-is-tesla-trucks/?intcmp=hpbt4